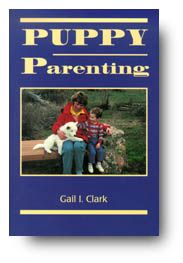 Finalist — 2000 Maxwell Award
Dr. Gail Clark, noted dog behavior specialist, trainer, and obedience and breed exhibitor, has written a book to help you nurture, socialize, and shape a mentally sound and well-behaved puppy through positive parenting and easy training techniques — starting with the first day you bring your puppy home. Whether you are in the process of selecting a puppy, or your puppy is eight weeks, eighteen months, or two years of age, the information presented in this book will help you understand your puppy and develop a rewarding bond that will meet your highest expectations.
This book is available from Amazon.
Why is this book different?
The secret to raising a perfect dog is to provide the proper nurturing, training, and socializing when the dog is just a puppy. But many people don't know what behavior to expect from their puppies, and so don't know how to prevent misbehavior. This book presents practical and easy-to-follow information on raising a puppy in a positive manner. Whether you are inexperienced, experienced, confused by conflicting advice, or an instructor, you will find the information and techniques discussed in this book valuable for positively nurturing, shaping, and training your puppy into a valued and loved companion and member of the household.
Here's an excerpt from the book's Preface:
"Somewhere between the yank, jerk, hit-the-puppy-over-the-head-with-the-newspaper, rub-the-nose-in-the-poop methods of training and the canine psychologist, psychiatrist, behaviorist, psychic, and massage therapist, raising a puppy has become very confusing for the new puppy owner. Puppy raising can be easy when you use your natural and intuitive parenting skills and common sense. Even if you have never been a parent, you possess basic, innate nurturing and parenting qualities that can easily be tapped and applied for raising your puppy to be the best dog possible. Just as you nurture, communicate, educate, reward, discipline, supervise, and provide a safe environment for a young child, so must you do the same for a puppy. A puppy, like a child, will develop into a well-mannered, well-adjusted, devoted, loving member of the family if you use sensible parenting skills and good common sense."
Table of Contents
Preface
Introduction
Choosing a Breed
Where to Find a Puppy
Choosing Your Breeder and Puppy
Puppy Body Language
The Best Age to Bring Your Puppy Home
Preparation for Your New Puppy
General Puppy Care
Bringing Your Puppy Home
Socialization
House Training
Communicating Proper Behavior to Your Puppy
Understanding Body Language
Disciplining Your Puppy
How Your Puppy Learns
Puppy Manners and Training
Preventing Problem Behaviors
Multiple-dog Households
Games and Exercise
Puppy Obedience Classes