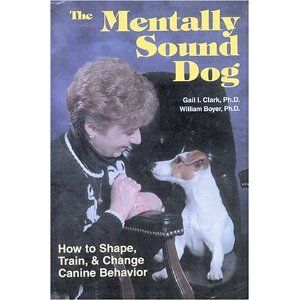 That Dream Dog Can Be Yours!
Winner, 1995 Award of Excellence by the Dog Writers' Association of America
Originally published as a book, this classic is also available as a set of two instructional videos!
It's the dream of every dog owner — a well-mannered pet that can accompany its owner anywhere in any situation and be an enjoyable companion. The dream is not out of reach! Behavioral psychologist and dog trainer Gail Clark gives you an easy to understand insight into why dogs behave as they do and how to shape annoying behaviors into good manners.
If your dog has already acquired some bad habits, you will find help here. Dr. Clark deals with aggression, chasing, excessive barking, and much more.
Whether you are the owner of one pet, a trainer, or animal care professional, you'll gain valuable insight into canine behavior and how to channel it constructively.
The Mentally Sound Dog book is available from Amazon.
Dr. Clark:
"Over the last two decades, dog training has undergone tremendous change. Today's obedience consumer wants to know more than just how to teach the dog to sit, down, and stay. Average pet owners not only want their dogs to sit, they want to know how to prevent and fix behavior problems, and why their dogs behave as they do. Most contemporary pet owners also have an idea of how they wish to accomplish this training. The average pet owner is much more educated than in years past and therefore demands that the trainer explain and defend why and how a training method works. The modern pet owner is looking for positive educational methods rather than the forced training so popular twenty years ago. In order to keep up with the demand from the general public for the newer training methods, trainers have sought higher education about canine behavior through classes, seminars, and books that address the behavior of the domestic dog. The successful instructor must now understand more than the mechanical aspects of training; her or she must demonstrate a conceptual understanding of canine behavior, learning, and problem solving and communicate that information clearly to the pet owner. As a trainer for general public for the last thirty years, my own class material has gone through a drastic evolution. When I first started teaching, my classes were described as obedience classes, and my class material, like that of all the other trainers in my area, consisted only of come, sit, down, heel, and stay. Over the years, by demand of he pet owner, the focus of the class has become behavior. Instead of being an obedience class, the class is now a behavioral course that teaches obedience to channel behavior. Similarly, the material in this video is for trainers who wish to give their clients more than just an obedience class and for pet owners who want to go beyond basic obedience training. Lay people can easily grasp and apply the learning theories and problem-solving methods presented, and professional trainers will find valuable information to incorporate in their own training programs. They also will be able to extrapolate from the concepts fresh ideas for working out behavior problems and teaching more complex tasks. The trainer who understands motivation, successive approximation, reinforcement versus punishment, reinforcement schedules, and the difference between a bribery and reward system can effectively teach a dog to complete any task, whether for basic control or for a precision performance in a competition trial.
Once the basic theories of canine learning and behavior are mastered, all readers of the book and viewers of this video can creatively use them to train and happily live with any age, size, or temperament of the domestic dog."
It does make a difference.
Drs. Clark and Boyer have written an excellent book on the multiple aspects of dog ownership. Dr. Clark's skill and knowledge as an animal trainer, dog breeder, behaviorist, and owner of many fine pets and animal companions shows through in this book. The authors have skillfully covered a wide array of questions and subjects that have confronted all dog owners at one time or another. This book covers training and behavioral concerns from the time the puppy arrives home with his new owner to that very painful and final good-bye that we all face sooner or later. Having worked with all of Gail's dogs as a veterinarian over the past 10 years, I can honestly say that she has never presented a "bad" dog. What a pleasure the life of a veterinarian would be if all our clients could earnestly apply what the authors teach in this book.
— John A. Mulnix, D.V.M.
Contents:
The Domestic Dog and His Behavior
Prevention and Rehabilitation of Problem Behavior
The Companion Dog
The Human—Canine Relationship
Fostering Good Behavior
Environment — Communication — Persistency
Causes of Behavior Problems
Breed and Sex Differences — Dominance — Health Problems
Body Language and Communication
Body Language — Eye Contact — Verbal Communication
Canine Learning
Reinforcement — Learning Theory — Temperament — Intelligence
Controlling Behavior with Obedience Training
Equipment — Commands
Discipline
Effective Corrections — Alternatives to Punishment
Aggression
Origin — Dominance — Children and Dogs — Other Animals
Shyness and Fearfulness
People — Events — Noises — Surfaces — Puppies
The Crate and Problem Behavior
Security — Problem Resolution — Training — Sizes and Types
Repairing Problem Behaviors
Barking — Chewing — Digging — House Soiling — Jumping — Bolting — Car Chasing — Eating Feces — Separation Anxiety
Feeding and Food Related Problems
Bolting — Finicky Eaters — Begging — Food Guarding
Social Behavior
Managing Excess Energy — Visitors — Grooming — Other Dogs — Introducing Dog to a New Baby
Spoiling and Games
Games — Living in the House — Tricks
Formal Obedience Training
Puppy Classes — Obedience Classes — Qualifications for Trainers and Behavior Consultants
Euthanasia