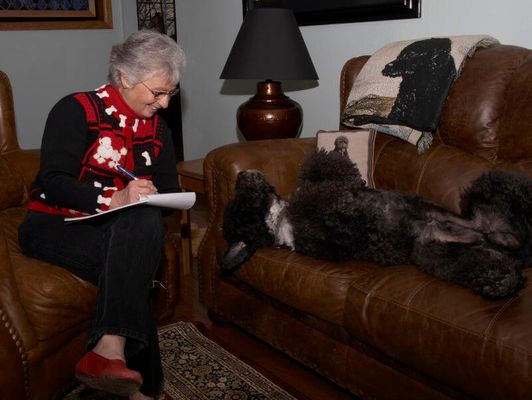 About Dr. Clark
Gail Clark, Ph. D, a graduate of Colorado State University, is the winner of numerous awards in the literary and scientific fields for her work in canine behavior and dog training. Dr. Clark has a PhD in Psychology specializing in canine behavior.
Dr. Clark offers over 38 years of experience in all aspects of dog training, behavior, and the general care of dogs. As an obedience instructor and practicing canine psychologist in Fort Collins, Colorado, Dr. Clark has trained over 40,000 dogs and their owners. Dr. Clark has counseled dog owners on training and solving behavior problems in dogs of all sizes, breeds, and temperaments since 1978. Her expertise and methodology in canine fearfulness, aggression, and general misbehavior have saved many dogs from re-homing and euthanasia.
Dr. Clark is an active obedience and breed exhibitor. Her dogs have earned numerous titles, including breed championships, agility, and obedience titles through the level of Utility Dog Excellent. Dr. Clark has shown breeds from every AKC group and has had multiple Group wins and numerous High In Trials. Dr. Gail Clark, "the K9 Shrink" canine behavioral psychologist, teaches and practices only proven psychological principles and positive learning methods for dog training. Dr. Clark's methods teach dogs good behavior without fear or force and facilitate the devoted, loving companionship every dog owner desires. She can be contacted at info@k9shrink.com or 970-689-1445.